Margaret Brewster Willingham
6Margaret Brewster Willingham a quilter, pattern designer, and author, is the founder and creative force of Eye of the Beholder Quilt Designs. She is inspired by the functional elegance of Victorian architecture and decoration, and the gratuitous beauty of God. Margaret applies the dynamic elements of movement, color and design she used over 40 years as a choreographer of dance as she choreographs unique quilts full of beauty and expressive of hope and grace.  
She loves all things quilts, but has a special love for hand appliqué and reverse appliqué.  She loves creating things of beauty, and helping others to find their creative voice while gaining the skills to make beautiful things.  
She designs patterns for well-known and Indie fabric companies, and co-authored Christmas RAPPing, Christmas Quilts featuring Reverse Appliqué & Paper-Piecing with Nan Baker in 2018.  Recent publications include "Rustling Leaves" (October 2019) and "Spring Rains" (March 2020) in American Quilter, and  "Quilting Reverse Appliqué" for AQS On-Point. She has also been published in Fons & Porter's magazines and 100 Quilt Blocks. 
She is a national teacher and lecturer empowering and inspiring quilters to stitching excellence in both hand and machine reverse appliqué at the  
Academy of Applique, Applique Away at Galveston Bay, Road to Ca, Vermont Quilt Festival, AQS Lancaster and Paducah, both in-person and virtually.  
Get a glimpse into her world of quilting with her trunk show/ lectures "Quilting: A Creative Journey", "Quilting: A Creative Act of Hope", and "Reverse Appliqué: Revealing Beauty". 
Her quilts have been juried into The Breath & The Clay Art Gallery, Road to California, Coming Up Roses, AQS-Des Moines, Grand Rapids and Paducah, the World Quilt New England and Mid-Atlantic Quilt Festivals, and awarded a  ribbon at Kansas City Regional Quilt Show. Her quilt "Beauty All Around" is traveling in the Bob Ross challenge exhibit.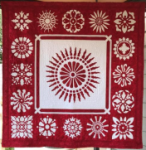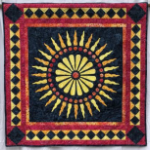 www.eobquiltdesign.com
https://www.facebook.com/pages/Eye-of-the-Beholder-Quilt-Design/404428092950878?ref=br_tf
https://twitter.com/eobquilt
http://www.pinterest.com/eobquiltdesign/
http://instagram.com/eobquiltdesigns/