2015 Academy Image Gallery
2015 Image Gallery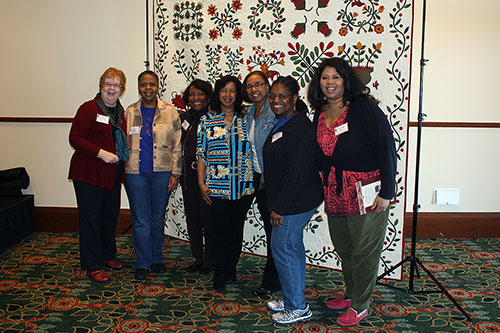 I hope everyone enjoys this gallery of images, as much as I did creating it from photos I took during the Academy.  Everyone was a great sport when having a camera pointed in their direction and some of you even posed for a few shots. I can't thank everyone enough for making this a great Applique event. I learned that you are among the finest people to participate in anything I have been part of, and many thanks for making me part of your applique family. I saw long time friendships reunited, and new ones created in a single week. The incredible Applique displayed by one and all whether it was a block or a completed quilt was something only a few get to see but should be displayed in a Museum.  You all were first class!
The professionalism displayed by this years teachers goes without saying. Barb Eikmeier your effervescent smile was always contagious and such a delight. Rita your extraordinary attitude brings everyone into the Verroca fold of Applique, and Mimi what can we say, you are the essence of Hall of Fame Material. Next year we will attempt to stuff another lifetime of Applique into a week of learning and do an even better job of making it an event geared toward the student and their capacity to make beautiful quilts.
Oh and Phyllis I miss you already… shhh don't tell Barbara.
Thanks to all the lovely women.
Rick